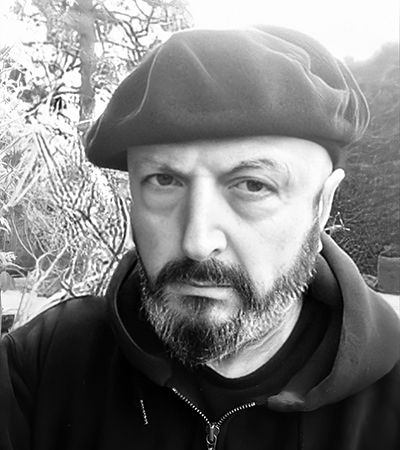 He begins to paint at the age of eight, so it can be said that he is self-taught. Later, for three years he attended the classes of the painter Alejandro Cañada
He familiarized with art starting with a realist stage , his career went through figuration and expressionism until he reached what he defines as a "primitive neo-impressionism"
In the 70s, he began their first group of art exhibitions, holding their first individual exhibition in 1982 in Zaragoza.
Later, he exhibited in Spain and worked on graphic design projects for different brands.
In the 90s he create sculptures and murals, and he exhibits at fairs and galleries Simultaneously. At the beginning of 2000 he began to exhibit in Europe and America.
Considered a prolific and creative artist, his paintings evolves rapidly and constantly. Researcher of the matter, it isn´t strange to distinguish in some of his works, results of chemical reactions. His paintings are between abstraction, figurative and constructivism, are part of some public and private collections, having been selected and awarded in different art competitions.
Being a nature-lover, he usually finds the inspiration for his paintings in it. He creates all of his painting on countryside, in Aragon and Asturias.
• Palacio de Villa Hermosa, Huesca.
• Palacio de Congresos y Exposiciones de Jaca (Huesca).
• Pabellón de Cristal Casa Campo Madrid
• Museo de Orús Utebo, (Zaragoza).
• Casa de Vacas. parque del Retiro Madrid
• Palacio de Sástago, Zaragoza.
• Museo Camón Aznar, Zaragoza.
• Feria de Arte Artéria, Monzón (Huesca).
• Sala Goya UNED Barbastro (Huesca).
• Sala de exposiciones Francisco Pradilla. Villanueva de Gallego (Zaragoza).
• Sala de exposiciones, Alcañiz (Teruel).
• Sala de exposiciones Ibercaja, Zaragoza.
• Sala de exposiciones Agrupación Artística Zaragoza
• Sala de exposiciones Artistas Plásticos Goya Zaragoza
• Feria de arte Zaragoza 2011 Zaragoza
• Feria de arte Madrid
• Feria de arte Expo ( Zaragoza)
• Feria de Oles (Asturias)
• Galería Fernando Latorre (Madrid)
• V feria de Arte Contemporáneo Art- Madrid (Madrid)
• Asturias se mueve Villaviciosa (Asturias)
• Sala Monroe, Zaragoza.
• Casa Decor (Madrid)
• Sala Xenón, Zaragoza.
• Sala de exposiciones Artistas plásticos Goya (Zaragoza)
• Museo municipal de Borja, (Zaragoza)
• Sala exposiciones de Uncastillo, (Zaragoza).
• Casino de Cadrete (Zaragoza)
• Sala Oasis, Zaragoza.
• Galería de Exposiciones Caja Duero, (Soria).
• Sala Odeón, (Zaragoza).
• Sala de Exposiciones Casa Pascualillo, Zaragoza
• Galería de arte Cristina Marín, Zaragoza
• Galería de arte ART & FER pur Creations (Paris, Francia)
• Galería Elena Moreno, Guanajuato, (México)
• Galería Manuela Talaverano, Sevilla
• Sala Álvaro Delgado Luarca (Asturias)
• Galería de Arte , Galery-M, Viena (Austria)
• Galería de Arte , Art Cuestion (Ourense)
• Arte abierto ( Madrid)
• Sala Ballina Villaviciosa (Asturias)
• Feria de Oles, Asturias